Antique and vintage item free valuations.
Hang on, what do they know?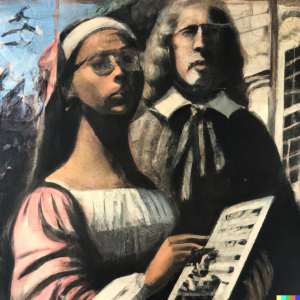 Between the two of us we have been buying and selling for eighty years. Not all of that was spent in the antiques and collectables field but is an area we have both been entirely focused on for the last 15 years. Eve has a lifetimes experience of special items. Museums and galleries were her playgrounds as a child and she will bend your ear with stories of her grandparents and their exploits in the antiques and museum industry if you give her the chance. Stephen has been buying and selling consistently from his early teens. Even when he had a "proper" job as a teacher, back in the UK, he drove an old transit van to school full of stock ready for the markets at the weekend. He has been buying and selling online for twenty five years.
Over the last fifteen years we have built what we believe to be the largest single online inventory of antique and collectable items available on the internet with a current inventory of over 10,000 items. We ship globally and supply private customers and commercial operations which include film studio's, interior designers, television studio's, photographers, journalists, publishing houses and authors.
As well as a fair general knowledge of the special and unique we also have the connections and experience to quickly move items from A to B at the very best prices, safely and quickly. Add our experience of e-commerce (see frukit.com, another of our businesses) and you have a small focused team with extensive modern day antiques and vintage item trading experience. Times have changed in the industry and we are constantly evolving our business and skill set to keep up..If we don't know, we know someone who does, or we know how to find out.
We are so confident of our position and abilities we have even fearlessly introduced a handful of local competitors into the trade! Well… competition is healthy for business! Watch out for news of our new business student intake of 2024…
Our book of contacts, includes buyers and sellers all over Western Europe, Asia, Australia and the United States.We also have quite a collection of well versed individuals in our back pocket with their own particular special areas of expertise.
Free valuations of antique and vintage items? Come on, whats the catch?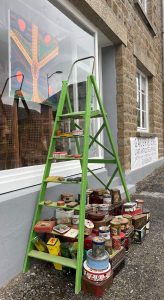 No catch! Throughout 2023 we are offering free verbal valuation sessions at our gallerie in Cherence le Roussell. Think Antiques Roadshow on a budget. The location may not be quite as glamorous as those on AR but the queues are shorter and there is no need to dress up as there are no cameras!
Every Saturday from 12 to 2pm at least one of us is on hand to give you a realistic and unbiased verbal valuation of your antique or vintage item in French, German or English as required. If we can't confidently give you an accurate price on the spot, we will get back to you within 72 hours. We may discuss your item with our contacts or carry out further research.
These valuations include a trade price (the average price a local trader may pay for your item), a typical local selling price (the price you could expect to achieve if selling the item yourself) and an online global price (the price we would expect to achieve selling internationally)
We also offer advice on moving on your items at the very best prices. There is no charge for a verbal valuation and/or our selling advice.
Unbiased accurate valuations with no angle…? Yes! We don't need your items. Our little area of Northern France is full of treasure! Mr EVE describes it as the Mecca of the old and unusual. We can find good quality stock wherever we go and if we can't find it in person locally we know where to find it online! We find treasure almost daily! We have so many stories…!
The small print?
Only between the hours of 12 and 2pm on Saturdays.
We will photograph your item and take some notes. You may or may not agree to us using your item in one of our social media posts.
If busy then a limit of one item, per person, per week will apply. If it should get really busy and difficult for us to manage (our gallerie/shop is open at the same time) we may ask you to return at a later point.
We can also provide written official written valuations for 25 Euros per item (allow 72 hours). Discounts will be applied for multiple item valuations. We also undertake probate valuations and estate valuations. Fees are based on the size of the consignment and logistics involved (typically starting from 250 Euros). You can find out more here.
We reserve the right to change our conditions or withdraw this free service at any point.
Location?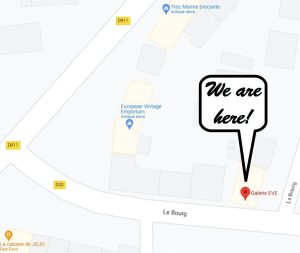 Just around the corner from our EVE buying office which is opposite the church in Cherence le Roussel. Search for Galerie EVE on google maps or click here.
Unable to get to us? Your item is too big to bring in? Send us an email at mail@euviem.com with photographs showing all angles and a detailed description of your item and known history. From this we will endeavour to carry out a valuation online.
Bonus?
As well as seeing a sample of our inventory in our gallery you can visit our colleague Troc Mamie just around the corner and grab a pizza at our village pizzeria all within a minutes walk!